I have a patient boyfriend, so I sent him to the Chloë Sevigny closet sale this past Sunday.
I didn't give him any instructions, just a scribbled note with a list of brands—"Miu Miu, Yohji Yamamoto, Vivienne Westwood, Jean Paul Gaultier"—followed by descriptions: "funny shapes and/or silhouettes, PLAID!, anything draped or ruffled or vaguely Victorian looking, hot in a weird way, potentially haunted nightgowns."
He told me he understood the task at hand, though he didn't believe me when I tried to insist this wasn't a test of our relationship. The night before, he prepared by looking through my copy of the 2015 Rizzoli book Chloë Sevigny—featuring personal photos, magazine editorials, portraits by Juergen Teller and Polaroids of her recognizable '90s looks—which sits on my nightstand. "I've got this," he said, with the confidence of a man who has no idea what he's getting himself into.
More From Harper's BAZAAR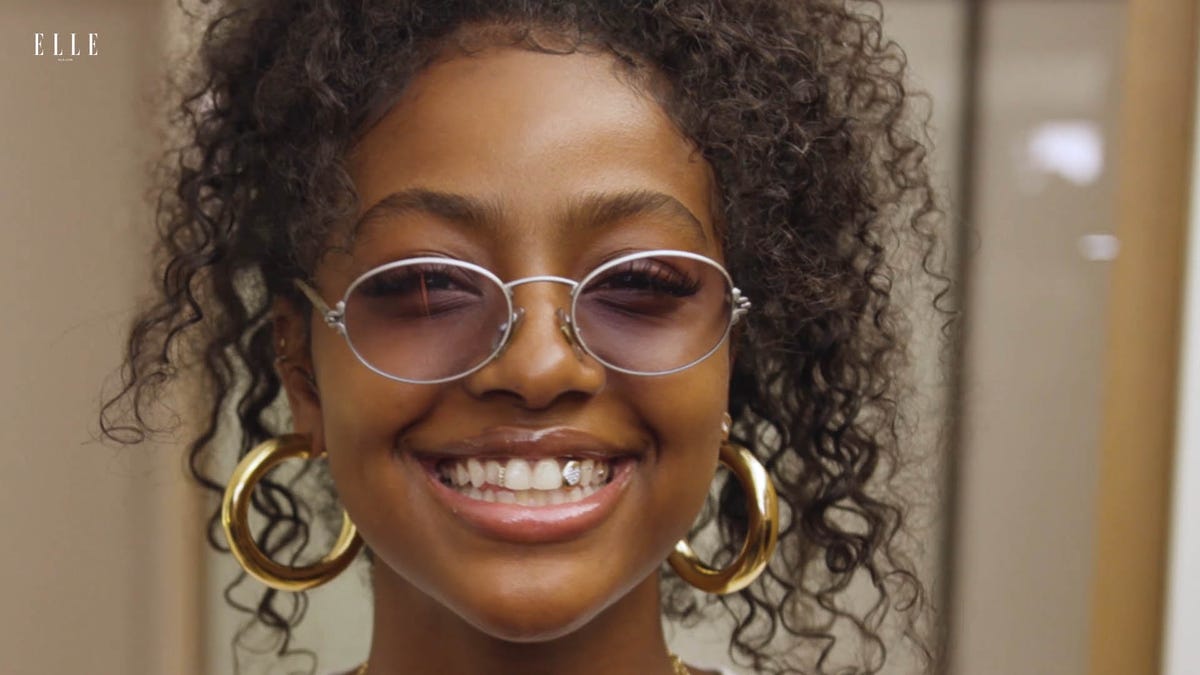 The "sale of the century"—which is how it was marketed by writer and organizer Liana Satenstein—took over my social media feed within minutes of being announced. It would take place at 676 Broadway in New York's NoHo neighborhood and promised killer looks from the closet of a perpetual cool girl. On Instagram, Sevigny started sharing photos of herself in pieces that would be available: a plaid Versace jumper dress, a patchwork faux-fur Supreme coat, a vintage apron dress with rickrack trim, and multiple pieces from her Opening Ceremony collections from 2015 and 2019. I loved it all.
The sale took place on Mother's Day at noon, and people began lining up at 6:00 a.m. to get in. Model Gabrielle Richardson created a meme labeled "so called 'freethinkers'" showing two open doors—one marked "Mother's day" and the other "Chloe Sevigny's closet sale." Only the latter had a crowd of people pouring into it. On TikTok, commenters wrote things like "I mean she is mother so it works either way" and "Well, she raised me."
For many fashion fans, Sevigny's style was formative. I grew up deeply insecure and painfully shy; I often felt trapped in myself, like I was screaming under my skin. And I'd spend hours on Tumblr at night as a teen, reblogging photos of Sevigny's outfits. I remember I was struck by her confidence, the way she would style tiger-print stockings with cocktail dresses and vintage sailor-collar tops with cut-off denim shorts. She never looks like she's trying; she just looks like she's being. Adopting her eccentricity into my own wardrobe made me feel safe. It helped me crack the code for becoming who I felt I actually was. So, yeah—she was Mother for that.
Unfortunately, as much as I hate to admit it, I think her brand of It girl has been dead for years. It's hard not to care what anyone thinks when everyone has so many thoughts and so many places to share them. But the promise of feeling close to this style era of yore was enough to draw hundreds of fashion fanatics and Sevigny fangirls to the event. Secondhand shopping and archival fashion have never been more popular, and the people waiting in the enormous line outside the NoHo space were the same ones scouring online resale sites for similar things. It's not that they really wanted the particular items Sevigny has procured over the years. They wanted to buy her essence, even if it can't be bottled.
On TikTok, those who braved the line, which snaked around the block twice, showed off their spoils. Niko Haagenson was the 10th person inside and scored a plaid Vivienne Westwood bag with large ribbons adorning the sides. His "favorite thing" about it, though, was a tampon left in the pocket. "I have a Chloë Sevigny tampon and I don't think anyone else can say that."
Richardson's sale haul began with the Supreme faux-fur coat Sevigny had posted on her Story days before. In response to a comment asking if the clothes really were Sevigny's, Richardson replied with footage of Sevigny wearing the coat from a 2015 i-D video titled "Chloë Sevigny's Guide to Being a New Yorker." She captioned it with a smug "Yes :) 🤍".
On Satenstein's own TikTok, she interviewed a girl named Kristina in the stairway of the sale. When asked what she had bought, Kristina held up a V-neck cable-knit sweater and said, "I got a really good find. This was the sweater that she wore when she first met her husband." She didn't mention the rarity of the piece, the label, or how she planned to wear it—only that it was meaningful to Sevigny and thus to her.
As for my boyfriend, he called me shortly after arriving at the sale at 9:30 a.m. His voice was tinged with fear: "Tara, this line is really long." He went quiet before starting to count aloud. I could hear his feet pacing as the sound of his headphone wire smacked against the phone. "There's already 100 people here, I think! What should I do?" Followed by, "I don't know—do you really want the pieces she doesn't even want to keep herself?"
I told my boyfriend that no, I guess I didn't want the clothing Sevigny didn't want anymore. But I didn't want the clothing she was keeping either. What I wanted was something he couldn't bring me even if he waited for hours, armed with my detailed instructions. And so I told him to get out of the line for my sartorial mother so he could celebrate his own actual mom a couple of blocks away at her apartment. Maybe the most Chloë Sevigny thing of all is to not do what hundreds of other New Yorkers are doing. Or maybe that's just what I'm telling myself to feel better about missing out.

Tara Gonzalez is the Senior Fashion Editor at Harper's Bazaar. Previously, she was the style writer at InStyle, founding commerce editor at Glamour, and fashion editor at Coveteur.