Dua Lipa has long been a Versace muse. She opened and closed the spring 2022 show in Milan, was the face of the winter 2021 campaign, and is often photographed at Donatella Versace's side, in glassy iridescent Versace dresses and square-toed platform pumps. Now, the two of them have taken their partnership one step further by co-designing a see-now, buy-now Versace collection, "La Vacanza," which debuted in Cannes today.
In case the South of France location didn't tip you off, la vacanza is Italian for the vacation. Lipa and Donatella embraced the feeling of a five-star vacation with a fashion show held at a scenic waterfront estate. Models walked down a runway in the center of a long pool in a series of getaway-appropriate outfits, from terrycloth cover-up dresses and bucket hats for a beach day to sexy, one-shoulder metallic sheath dresses for dancing the night away.
The collection's debut also came with a campaign starring Dua Lipa, shared on Versace's Instagram account. The imagery features the "Don't Start Now" singer in a low-cut polka-dot dress with butterfly flourishes and a colorful choker necklace.
More From Harper's BAZAAR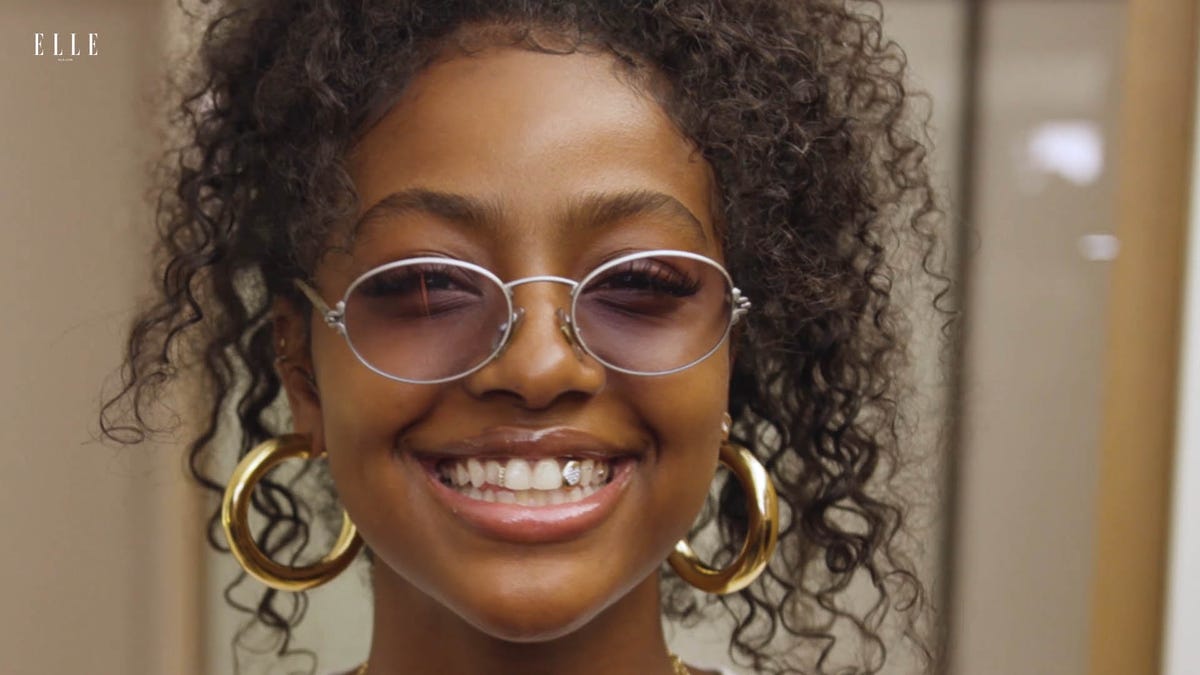 "We wanted to make the holiday wardrobe and something that I'll wear all summer, but also something other people will love and enjoy," Lipa said in a press conference held prior to the runway show.
This collection marks the Grammy-winning singer's first foray into design. She revealed that the collection began with sketches she drew for Donatella last fall. "We had such a common language, we could just bounce ideas off each other," she said of working with the legendary designer.
From there, the pair combined Lipa's ideas with reinterpretations of archival Versace prints and silhouettes (in some cases, two archival prints layered over one another). The result is a collection that Donatella told journalists is all about "freedom, fun, and confidence"—conveyed through details like crystal butterfly motifs atop strappy sandals and a bright, saturated palette. Many of the pieces channeled the spirit of Lipa's onstage and red-carpet wardrobes as well, with flashes of metallics, sequins, and harness details.
Earlier this spring, Donatella and Lipa announced the collection on Instagram with a black-and-white photo. Donatella is in her signature oversize aviator sunglasses, and Lipa's back is toward the camera, exposing the thong-shaped cutout of her backless gown, held together with a large gold Versace embellishment. The caption reads, "We are excited to announce the Versace 'La Vacanza' women's collection, which we have co-designed. We will be showing the collection on Tuesday 23rd May in Cannes, France. We cannot wait to show you what we have created!​"
In a statement following the announcement, Donatella said, "I have always been inspired by a collaborative design process. Working with Dua on this collection has been very exciting and I love the dynamic between us. Dua is strong, fearless, and free and her creative vision is exceptional."
In the same statement, Lipa spoke of their long-standing friendship and working relationship. "I am absolutely thrilled to have co-designed the women's 'La Vacanza" collection for Versace with Donatella," she said. "She and I have formed such a strong bond over the years, and I'm so grateful for the support I've received from her and the whole team since the very beginning of my career. For her to give me the honor of co-designing this collection and letting all my summer inspirations go wild has been a dream."
The collection is already available to shop in-store and online on Versace.com. It's the second time Versace has ever created a see-now, buy-now collection—all crafted with the seductive spirit that's a signature of Versace.
This post was updated on May 23, 2023, with information about the collection and runway show.

Tara Gonzalez is the Senior Fashion Editor at Harper's Bazaar. Previously, she was the style writer at InStyle, founding commerce editor at Glamour, and fashion editor at Coveteur.
Fashion Commerce Editor
Halie LeSavage is the fashion commerce editor at Harper's BAZAAR. Her style reporting covers everything from reviewing the best designer products to profiling emerging brands and designers. Previously, she was the founding retail writer at Morning Brew and a fashion associate at Glamour.