Last summer, getting dressed ceased to mean putting on clothes. All around New York, I saw the crests where bums meet thighs, I saw nipples beneath transparent shirts, I saw bellies bared in meetings. Personally, I started wearing beach cover-ups to run errands and stuffed the slips that came with my sheer, diaphanous dresses and skirts into the back of my closet, charging outside in see-through clothes with no compunction. It was in part because it was so damn hot, but also because I had this exotic but urgent feeling that I just didn't care what anyone looking at me thought.
The designer Maryam Nassirzadeh noticed several of her fellow New Yorkers dressing this way, including herself; she often shares images of herself in sheer clothes over bikini bottoms or no bra with her highly engaged Instagram followers. The attitude inspired her own runway show, which showcased her treasured collection of textile scraps pieced together over models' otherwise nude bodies. Some of the textiles were barely big enough to cover a single breast, and she thought of them like gems or shells. "Is this enough?" she recalls thinking. "But then I thought, there's something sensual and ethereal and meaningful in the sense of, like, [each textile] has an essence and an aura."

The next day, Tory Burch's models were more covered up but no less exposed. Her opening look was a sheer white elbow-length shirt revealing a gray bra beneath and a ruched darker gray miniskirt, squeezed over a sheer black skirt. Much of the collection was similarly layered, with abs, cleavage, and shoulders revealed by fabric that had been wrapped or gathered or in conservative cuts made sensual with see-through cloth.
By the end of Fashion Month, sexy, sensual clothes had emerged as designers' big message, including at Simone Rocha in London and Hermès in Paris. It wasn't a revolt against men's diktats about how women should dress, nor merely a comeback of sultry stuff after a decade of oversize silhouettes. With female designers leading this change, it marks one of the most declarative shifts in clothing since before the pandemic. It's a reframing of what's appealing and to whom, as well as a radical shift in the way we think about our own bodies and relate to one another's.
"We're always a bit kind of embarrassed to say 'sexy,' " reflects Hermès women's artistic director Nadège Vanhée-Cybulski. "It's degrading. What about women's liberation?" But she always tells her team, "We are—you are—the new generation of designers, and things have shifted. We need to give a new translation to what is sexy."
What is startling about the new preponderance of skin and undress is that we don't live in some utopia where women can bare their bodies and feel completely accepted or unthreatened. Women's bodies are under siege all over the world through the degrading of abortion rights in the United States and religious and political restrictions globally.
For the designers who are proposing a new vision of sensuality, it's not just about the reveal; it's about giving the wearer the agency to control just how much or how little. Like Burch, a number of designers took a modular approach to showing skin, offering flexible or adjustable pieces that a woman can manipulate to highlight what she feels are her own best assets. Instead of declaring, "This season is all about the legs!" Burch offers pieces that allow women to make those choices for themselves. Women are becoming more confident, she explains, and "I feel like they're redefining what sexiness means to them." Women don't want to be given rules about what to wear, Burch says. "They want to be empowered. And I think to have your own personal style around that, and accentuate your body in any shape or form, is an amazing thing."
Simone Rocha tells me that she thought of the exposed flesh in her new collection as "bites," where the heaps of fabric pull apart so "that you could see little layers of skin." This is something she has always done, but she exaggerated it for Spring 2023, with zips that can open to reveal as much as the wearer chooses and give the clothes an "ergonomic uniformity." That raises the question, she says, of "what is that uniform covering, and what's the fragility beneath it, and what's the sensitivity beneath it? And it felt right this season to really expose that in this more provocative way."

Certainly, the way that the pandemic reoriented our relationships to our physicality and its place in the world influenced this shift. We spent months in confined spaces, wearing soft clothes and seeing few others because a virus made groups of bodies into a threat. Reentering public space has been overwhelming; it's made us rethink how to exhibit our corporeality. "There was this moment when we had to reassess the body," says Vanhée-Cybulski, "and find and reconnect the body with its senses."

Her collection for Hermès was unusually physical: cords wrapped around bare stomachs and sleeveless tops showing off clavicles and ribs. Vanhée-Cybulski says the length and the restrictiveness of pandemic lockdowns meant that the feelings of running and moving and being together—feeling the breeze against yourself and the sweat and your own skin against other people's as you hug or dance beside them—all suddenly felt new and even more intense. "For me, clothes are a site of intimacy," she says, but also a kind of "public interface." As leather apron dresses and whipstiched suede minishifts came down her runway, one couldn't help but think of how those smooth and soft materials would feel against the skin.
"You wear something, and it makes you feel in a certain way," she muses. "And that will trigger the desire or the need to connect or not to connect with people outside."
Designers are also thinking about how fabric clings to the body. Ester Manas, the French designer who, along with her Belgian design partner, Balthazar Delepierre, has become a leader in size-inclusive high fashion, uses stretchy mesh fabrics, like ruched translucent polyester and nylon, meaning that the fit of her pieces is highly adjustable and tight, though comfortably so. Her garments, like a lavender ribbed knit dress with buttons that can be undone to reveal thighs or closed to make sexy keyholes, can be worn several different ways but essentially reveal the limbs underneath. "The pieces are really fluid," says Delepierre, "so you can really play." (They are generally one-size-fits-all, which means up to a U.S. 18 or 20, the designers say.)

"There are a lot of different girls with different desires and needs," says Manas. Maybe someone wants to wear a bikini under a see-through dress, while another wants to be more covered up. But cutouts, in particular, are "really important" to Manas and Delepierre because they see their work as "the celebration of flesh."
When a woman designs clothes for other women, she often does so from a place of empathy. "There is a familiarity," Vanhée-Cybulski says. "I don't think the question of gender [determines] whether or not you are capable of designing for women," but, she continues, "you think about your curves, you think about your breasts, you think about your cycles." It's about going through puberty, through menopause—the continued metamorphosis of the human body and how that might determine what clothes might feel good.
It's this fundamental connection to the body—and not just the female body but the human form—that often makes a woman designer's work distinct. Part of what makes Simone Rocha's clothing so powerful, for example, is her respect for feminine pleasures like bows, rhinestones, and pink, but she uses shapes that never feel fussy; instead of feeling decorative, they feel vigorously corporeal. "I think of the skin, and I think of the blood pumping beneath the skin," Rocha says. "I think of it in a way where it's almost short of breath. There's an urgency to it."
Indeed, this moment seems much more about intimate and personal feelings triumphing over shared values, emotions, or judgments. Even at Comme des Garçons, one of Rei Kawakubo's models waddled down the runway in an enormous bonnet, then turned to reveal a miniskirt, suggesting that what appeared to be an oversize frame of fabric from the front was in fact a freeze frame of that flirtatious moment when an early spring gale blows your tasteful petticoat over your head. You are momentarily exposed to the world, and likely no one saw. Still, it's a private thrill. As Rocha puts it, "It's more than someone looking. It's more about yourself: what you want to reveal. The way that provocativeness and sexiness appeals to me is that you're in touch with yourself. So there's a power to it."

Women have been moving further and further toward dressing for ourselves and our own pleasure over the past decade, but perhaps this emphasis on the individual and her body to the exclusion of anyone else is the big fashion change that the pandemic wrought. If people take issue with what you're wearing, the thinking seems to be, that's their problem. What your clothes project to others doesn't really matter, and what others make of what you wear couldn't be less relevant. It almost seems as if we are no longer meant to perceive one another at all. What might be beneath the Zoom screen frame has become incredibly personal, private. Vanhée-Cybulski describes our new relationship to our bodies, especially the way she sees young people dressing in Paris and New York, revealing their bodies with tender liberation, as "the body as a personal diary."
So where is all this going? Do we just keep revealing more and more? Vanhée-Cybulski thinks that it all in fact presages the dystopia to come—that the encroachment of technology upon our lives, and on our physical selves, has led to "this romantic surge of expressing humanity." In the face of human microchip implants and artificial intelligence replacing us in the workplace, we reveal our arms, our legs, our midriffs, our flesh in an outcry of physicality, as if to say to ourselves, "Remember, what makes me exceptional is that I am human."
But for now: "We have our own armor where we have the strength to own it," Nassirzadeh says. "I feel like I have to own this because this feels true to me, and this is what I want to wear. And I'm able to stand for it."
A version of this story appeared in the March 2023 issue of Harper's Bazaar.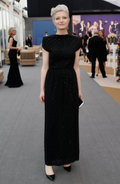 Rachel Tashjian is the Fashion News Director at Harper's Bazaar, working across print and digital platforms. Previously, she was GQ's first fashion critic, and worked as deputy editor of GARAGE and as a writer at Vanity Fair. She has written for publications including Bookforum and Artforum, and is the creator of the invitation-only newsletter Opulent Tips.