The Yohji Yamamoto Renaissance—the Yohjissaince, if you will—is officially in full swing. In the midst of Paris Fashion Week earlier this month, the brand launched a special project with SSENSE: Y-3 Atelier.
Y-3 was revolutionary, the first time a global sportswear brand, in this case Adidas, created a line with a high fashion brand, writing a playbook that every luxury brand now follows. That collaboration recently celebrated its 20th anniversary, and during Paris, the Y-3 Atelier line marked another innovative moment for the brand as it infuses sportswear pieces with avant-garde execution.
As usual, Yamamoto's Fall 2023 show was one of the season's most meditative. His quiet and deliberate runway is always soundtracked with Yamamoto's own singing and guitar-playing. (His opening track this season: a cover of Leonard Cohen's "I'm Your Man.") In recent seasons, the most stirring part of a Yohji collection has the finale section of the show, in which the designer shows a set of super-elevated ensembles, often handmade or couture-like. This season, those dresses were a series of loose, filmy silk satin dresses with bell sleeves that fluttered as the models walked. Several were embellished simply with silvery black beads at the shoulder, neck, or down the front. They were like little Paul Poiret ghost dresses, graced with Yamamoto whimsy.
Yamamoto's brand is one of the few heralded by the archival fashion movement whose revival hasn't been propped up by appearances on the red carpet. (Like, there's been no Zendaya Yohji moment, much to my chagrin.) Why? Perhaps the clothes are too subtle for a time when red carpet ensembles insist on speaking boldly. But when I saw those simple dresses, I just thought about how cool an Academy Awards attendee would look wearing, say, the black silk dress with an asymmetrical, folded neckline scattered with red and black beads; a delicate little silver slipper; and a vintage fur stole. Maybe a beautiful Stephen Jones headpiece, too!
Just as cool, but a very different kind of statement, would be one of the Y-3 Atelier gowns. One of the capsule pieces is a black gown with a 1930s-inspired back of fluttering hems made of the signature Adidas three stripes. It's the least crass (and most playful) expression of couture-inspired sportswear I've seen since Y-3 launched all those years ago.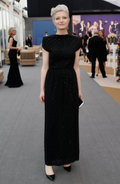 Rachel Tashjian is the Fashion News Director at Harper's Bazaar, working across print and digital platforms. Previously, she was GQ's first fashion critic, and worked as deputy editor of GARAGE and as a writer at Vanity Fair. She has written for publications including Bookforum and Artforum, and is the creator of the invitation-only newsletter Opulent Tips.