Every product on this page was chosen by a Harper's BAZAAR editor. We may earn commission on some of the items you choose to buy.
The 12 Best LED Face Masks for Addressing Wrinkles, Acne, and More
These derm-loved devices are a skincare secret weapon.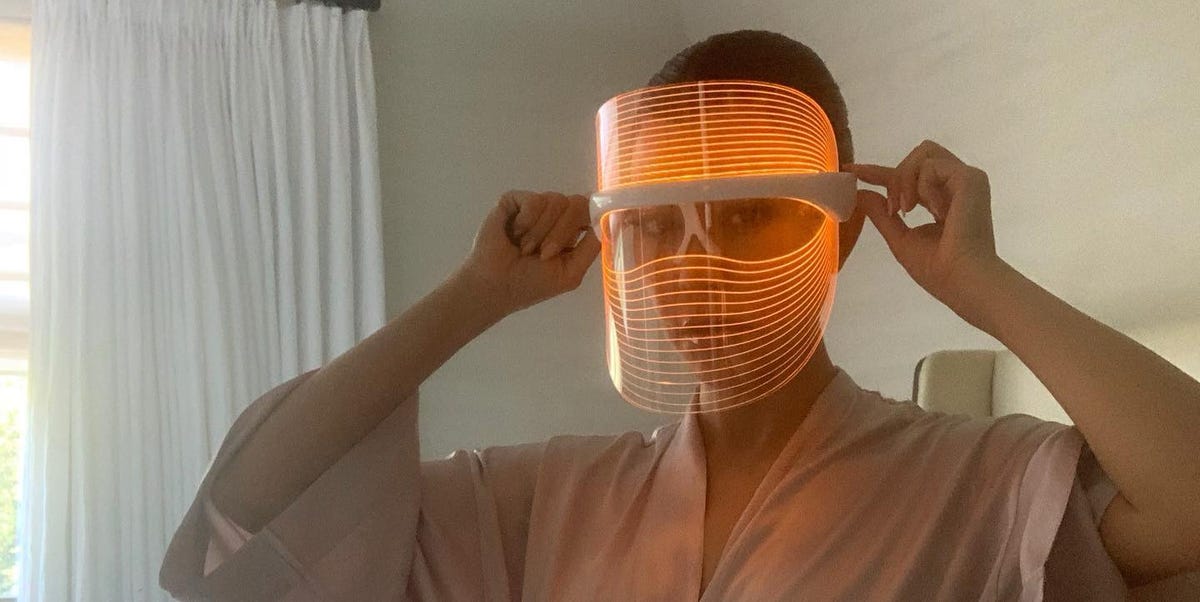 @kourtneykardash
//
Instagram
If you follow anyone on Instagram or TikTok with even a passing interest in skincare these days, you've probably encountered an LED face mask on your feed. They may give off big slasher-movie energy, but these masks actually offer FDA-cleared technology for reducing wrinkles, clearing acne, and more.
Although LED light therapy is often conducted by dermatologists and aestheticians, thanks to these effective at-home options, you can keep the energy going—literally—at home. Keep reading for 12 of the best LED face masks of 2023, plus more details on the technology from Julie Russak, dermatologist and founder of Russak Dermatology Clinic in NYC.
---
Advertisement - Continue Reading Below
Advertisement - Continue Reading Below
Advertisement - Continue Reading Below
Advertisement - Continue Reading Below
Frequently Asked Questions

What Is LED Light Therapy?

"Low-level light therapy, or LLLT, with red or near-infrared light is known as 'photobiomodulation,'" explains Russak. "Recent studies have shown multiple positive effects and uses in medical and cosmetic areas." For example, says the derm, "It has been shown to enhance mitochondrial ATP production, a.k.a. increasing energy inside the cells, cell signaling and growth factor synthesis, and decreased oxidative stress leading to lifting and tightening lax skin and the reduction of lines, improved wound healing and a decrease in acne."
So, what does that mean in non-scientist speak? Serious anti-aging, without needles, knives, or lasers. In addition, the derm says LED can address other skin issues: "It also has been shown to have promising results in treatments of multiple skin diseases such as sclerosis of the skin, psoriasis, precancerous lesions, and numerous other uses," says Russak.
Who Can Use LED Face Masks?
Nearly everyone can use LED masks (and trust us, once your friends and family sees yours, they'll want to). "Because photobiomodulation is not based on heat production, it can be used on all skin types," says the derm. "The efficacy depends on the number of LEDs and optimization of wavelength with red and near-infrared wavelength." However, there are some exceptions. If you're under 18, pregnant, or breastfeeding, you should avoid LED light therapy, as it has not been sufficiently tested.
Why trust Harper's BAZAAR?
For more than 150 years, Harper's BAZAAR has been the preeminent fashion and beauty resource for women at every age. We cover what's new and what's next in beauty by working with the world's leading authorities in dermatology, plastic surgery, cosmetics, skincare, haircare, and fragrance. Every story we publish has been thoroughly researched and vetted by our team of beauty editors and industry experts.

Lindy Segal is a beauty writer and editor. In addition to regularly contributing to BAZAAR.COM, she also writes for Glamour, People, WhoWhatWear, and Fashionista, among other publications. She lives in New York City with her Chihuahua mix, Barney.