It's universally accepted that any Cleo Wade quote will instantly boost your serotonin. Referred to as "The Millennial Oprah," Wade's intellectual yet conversational writing on Instagram provide boundless inspiration and solace. Now, the poet, author, and activist is extending her comforting cheer to your favorite cozy beauty product: lip balm. As the newest ambassador for Burt's Bees, Wade's first order of business was to design limited-edition balms that boast uplifting mantras, affirmations, and kind words to brighten your day. Here, we catch up with the multi-hyphenate to chat about all things self-care, being a mom of two, and her security sweater.
---
How did this partnership come to be, and what inspired you to create this specific lip balm trio?
I got an email about this partnership when I was on maternity leave with my second baby, and it abruptly ended my maternity leave. It was so exciting, because I'm a longtime customer of Burt's Bees; I was instantly flooded with nostalgia. I've worn the lip balm since I was in high school at 15 years old and continued to wear it while living in New York in my 20s. Now, half my life later, being a mom of two in California in my 30s, Burt's Bees is still special to me. I'm lucky to say that some of my best friends from my childhood are still my friends, so I immediately called them and shared the news of my partnership with Burt's Bees.
More From Harper's BAZAAR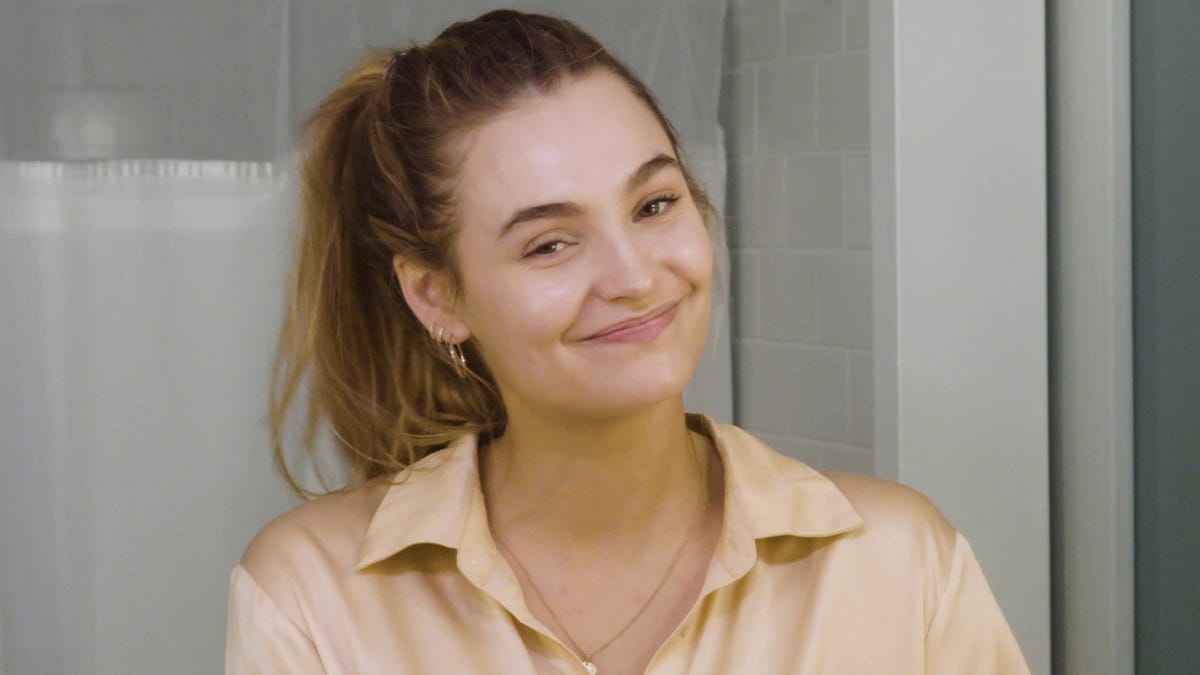 Wow, what a full-circle moment. As a mom of two, especially, how do you practice self-care?
For me, self-care is taking time for myself in small ways. I think that when you tackle self-care as one all-encompassing idea, it kind of feels too big to conquer. Some days, the act of applying lip balm is my self-care. It's a ritual that helps make me feel prepared and complete. It can even be using a sheet mask for five minutes or drinking lots of fluids to stay hydrated (I always have three drinks at once). I mean, it's so deeply uncomfortable to be thirsty or have dry lips. I also will go on long walks to help with anxiety. These are easy ways I take care of myself and feel comfortable in my own skin, especially when I have a lot on my plate.
When do you feel most empowered?
Whenever I'm in charge of myself. Sometimes we try and create standards of an empowered person, but I believe people should be able to do whatever they want with their bodies, hair, makeup. When you're living in a way where you feel wholly satisfied with yourself and beautiful, that is empowerment. It's amazing how beauty can be a part of empowering people.
Has your outlook on beauty changed at all now that you have two daughters of your own?
Your children absorb that energy that you put out. I try and treat beauty like a celebration that everyone's invited to. It's something that lives in a zone of joy, and that's really impactful. I haven't thought about how my kids will understand beauty standards, but I've tried to teach them to celebrate different types of beauty.
Simon, my partner, and I were laughing the other day, because our daughter has never had a true Barbie. The only one she's ever had is the Maya Angelou Barbie, and she thinks that is the standard Barbie. She'll always ask for her Maya Angelou doll and doesn't want to go anywhere without it. Sometimes you think the world is moving slowly until your daughter's Barbie is Maya Angelou. And one of my daughters has, like, bright red curly hair. I don't know any person in my family who looks like her. But I love to look at iconic redheads, like Lindsay Lohan or I Love Lucy, so she sees someone who looks like her and to show her how to celebrate her beauty.
I try not to overcomplicate beauty for my daughters, because the world will complicate it enough for them. We call everything beautiful, because there is so much beauty in the world.
Is there a beauty product or clothing item that instantly makes you confident?
I often joke that I don't have safety blankets, but I have safety sweaters. When I have a sweater that I'm comfortable in, I feel more in touch with myself and that gives me confidence. I struggle with confidence if I feel not myself or uncomfortable. A sweater isn't really giving me confidence; it's a small thing that makes me comfortable. Also, being around people who celebrate you instills confidence.
How do you stay calm amid chaos, which is inevitable in the world we live in today, plus being a working mom?
I'm lucky that I have people in my life to help me. I was just writing the other day about how my partner, Simon, and I are like neurotic masses in our own way. But something I really treasure about our relationship is that when one is sort of spiraling, the other one is grounded and stabilizes the situation. Some people make each other hysterical or amp each other up. We don't try to erase each other's experiences; we try to ground the parts that have yet to ground themselves. I think it's important to have that in a partnership, and God knows, it took me a while to find it. I was single most of my life. I was always like the single girl in high school and in my 20s. To me, people that helped me stay grounded and calm is probably the biggest asset.
What's the last book you read that inspired you?
Ross Gay has a new book out that I just ordered that I'm so excited about. It's called Catalog of Unabashed Gratitude. I'm really excited about his new book. My brother actually turned me onto his writing, and it makes me happy. A book that I love, which is more like a zine because it's a very tiny book, is a conversation with Nikki Giovanni and Glory Edim, who is the founder of [the book club] Well-Read Black Girl, called Being Alive Is a Good Idea. And it's a wide-ranging convert interview that they did. Any conversation with Nikki Giovanni just makes me smile.