This month marks the first time singer, Bel-Air star, and L'Oréal ambassador Coco Jones has attended the Cannes Film Festival. And even with a number of viral R&B hits and a successful television show under her belt, she tells Bazaar.com that the annual event's glitz and glam aren't lost on her. "I'm really excited to represent L'Oréal and continue to pursue amazing projects and opportunities with this company," Jones says. "It's always so special when you, as a person, as an artist, align with a brand."
For the occasion, the star honed her light and illuminated the red carpet, wearing an embellished Naeem Khan dress with feather detailing and a pair of matching sparkly gloves. She also opted for a sleek, side-parted ponytail—which falls right in line with a number of this year's top hair trends—accented with a bold crease cut and nude lip, courtesy of L'Oréal Paris.
We caught up with Jones ahead of her Cannes debut for all the details on her showstopping beauty look, including an exclusive glimpse at her behind-the-scenes glam process.
More From Harper's BAZAAR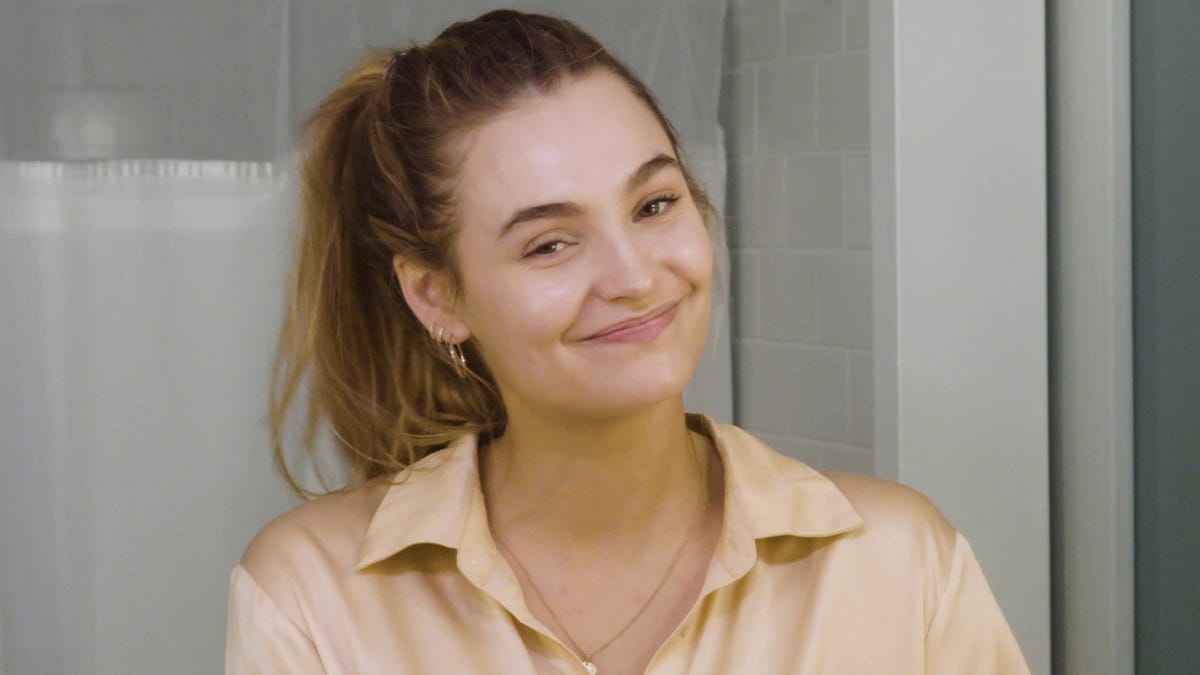 ---
What are you most excited to experience this year at Cannes?

I'm thrilled to see amazing films that are breaking out—I kind of feel like I'm getting a little exclusive before America gets to see them. Also, being surrounded by A-list stars—it's always so inspiring to be in the same room with women and men that I look up to, who have had so much longevity in their film careers. International stars as well—maybe I'll learn about someone new that I haven't met before. And of course, dressing down to the ground.
Tell me a little about what it means to you to be part of the Cannes red carpet on behalf of L'Oréal Paris.
I think it's so amazing to be here on behalf of L'Oréal because I love what the brand stands for when it comes to beauty—not just on the outside, but on the inside for women. And of course, all of the diversity that they include in their company. I think for me, it's really kind of a dream come true to be representing the brand. They've been such a huge beauty company for as long as I can remember—since I was a little kid—and even way before that. It's really exciting to get to be here on behalf of them.
What is the inspiration behind some of your beauty looks at the festival?
One thing I've learned about Cannes is that you're never really overdressed, so I like to take it as far as I can possibly imagine when it comes to the drama of my outfit, when it comes to the glam. I want to be in this whole different world, and there's no such thing as too big here. I'm trying to really take my makeup, hair, and outfits to the extreme drama level.
Do you prefer wearing bolder or more natural-looking makeup for red-carpet events?
Typically I go with bolder makeup looks for the red carpet. One, because I kind of want to match my outfit, and typically my outfits call for color, shimmer, or smoky looks to tie it all together. I feel that red carpets are made for fashion statements: They're less about your personality and more about your style and showing off amazing designers. I usually save a more natural-looking glam for press junkets, when I'm more face-to-face and more of my personality is able to shine through.
How did you prep your skin ahead of makeup application?
Before each glam session, I'm using my L'Oréal Paris Revitalift serum with hyaluronic acid. It's so important that your skin is hydrated before adding a bunch of products on your face—I like having that solid base. I'm also using their True Match Lumi Glotion Natural Glow Enhancer, which leaves behind a nice shimmer under foundation—I'm all about glowy, dewy skin.
What's your favorite part of the glam process?
I like to learn. I'm a sponge in all regards, especially when I'm watching talented makeup artists and the techniques they use. I'm always like, 'Wait, how did you do that?' I really love makeup—I'm a girly girl—so I always want to elevate and take these tactics home. So, I really like learning, asking questions, and watching how they transform me.
Do you have any holy-grail makeup favorites that are central to your daily routine?
I don't really go anywhere without brows or mascara; I just feel like they take you up a notch, even if you've just gotten off a plane. I love the L'Oréal Telescopic Lift Mascara—it's actually so sick because it has dual-sided brushes. My actual lash lift is kind of crazy because I have extensions on, and then we apply the mascara on top of them.
Have you adopted any new beauty techniques since you started playing Hilary on Bel-Air?
There are so many different little things that I've picked up, but I've really learned how to balance professionalism with beauty. A lot of times, women are told we have to look a certain way to be taken seriously in the work space, but Hilary just breaks all of those boundaries—she's always like a pretty boss! It's very inspiring. Even when I go into meetings and I want people to take me seriously, or I'm pitching an idea for a concept, I can still play with colors and patterns. I can still have on fun eye makeup—I'm just going to be a boss and have a point to prove, and going to look cute doing it.
Is there a particular episode this season where you loved Hilary's glam the most?
In one episode, I wore this all-green—it was sparkly and holographic green—Area outfit, and my makeup artist did a green lid to match it. I had never done green makeup before, but it just looked really fire, so that was my favorite this season.

Who are some of your all-time beauty muses?
My mom taught me pretty much everything I know. That's why I've known about L'Oréal for such a long time—the brand has been passed down from generation to generation. From her, I've learned that beauty is so many things: It can be makeup, skincare, hair, but it's also about the person behind that—it really radiates from inside out. She's been my muse because her beauty is so many things, in addition to her class, grace, and of course, her face!
Do you have a red-carpet fragrance rotation?
Right now I'm really into the Armani My Way perfume, and I love Maison Francis Kurkdjian's Baccarat Rouge 540—classic.
What's one of your favorite songs on your getting-ready playlist?
So, I had this dinner yesterday with some L'Oréal employees and other brand ambassadors, and they were playing the loudest music, but it was kind of fire! And I heard "It's Not Right But It's Okay," by Whitney Houston. I just really love her voice, and I love that she could sing any genre and it's distinctively Whitney.
Associate Beauty Commerce Editor
Tiffany Dodson is currently the associate beauty commerce editor at Harper's Bazaar, where she specializes in trend forecasting, building relationships with major and emerging brands, and crafting shopping stories—from holiday gift guides to product road tests. Tiffany's work has previously been featured in outlets like SELF, Bustle, and Teen Vogue, and she's been quoted as a commerce and beauty expert in publications and platforms like The Business of Fashion and NPR's Life Kit podcast.