Foundations have gone on a journey the last few years. First, there was the obsession with full coverage. Then came the barely-there skin tints. But that wasn't enough pigment for most of us, so now we're in foundation's dewy era: medium-coverage formulas that leave skin looking a little glazed, sometimes shimmery. Kristi Sloe, VP of product development for Laura Mercier, is dubbing this change the "skinification" of foundation. "It's not just about the appearance of the skin, but also the care of skin," she says. "I think Laura, really with her tinted moisturizer, was probably one of the first ones to push forward with this concept."
I'm personally a fan of all these iterations, because I'll try anything on my pursuit to filtered skin with minimal effort. But ultra-glowy skin isn't a look that works on everyone, especially if you're naturally oily or live in an area with high humidity. The middle ground between matte and shiny is ripe for innovation, and Laura Mercier's new Real Flawless Weightless Perfecting Foundation fits the bill.
I've loved Laura Mercier's complexion products for more than two decades. I lived in the tinted moisturizer for most of my teens and early 20s, and still reach for the primer, cult-favorite setting powder, and concealer to this day. When I think of Mercier and her brand, I think of natural, healthy skin. This is a brand dedicated to concealing but not caking. You've no doubt heard other brands talk about making your foundation look like skin; Mercier pioneered that.
More From Harper's BAZAAR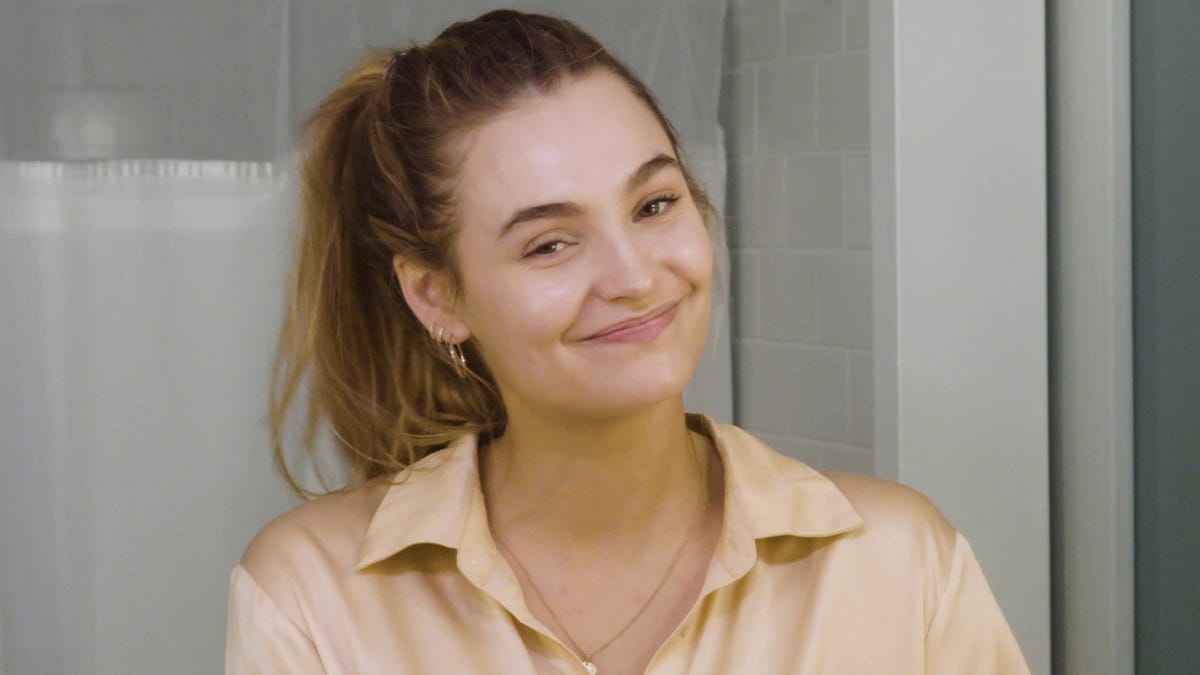 "I created a sort of new philosophy," Mercier tells me as she reminisces on her brand's history. "Perfecting the skin, without putting much on the skin. So basically, you forget you have something on—and it does the job." The makeup artist-turned-brand founder says that the ultimate secret is knowing what needs to be covered and how to do it with the least amount of product possible. It's that principle that guided the development of this groundbreaking new formula.
"Tinted moisturizer is mistake-proof, so I'm not worried about that. In America, women are very much about foundation. How do we do it in a way where we look at your skin, we look at your face, and we don't think, 'Oh, well, she looks great; she has lots of makeup on though,'" Mercier says. "No, it should be, 'She looks great. She looks natural. Wow, does she even have foundation on?' That's the question I want people to ask."
A little goes a really long way with the new Real Flawless Weightless Perfecting Foundation. The blurring, super-lightweight formula is available in 30 shades, and it's honestly one of the most invisible foundations I've tried in years. That's thanks to a new innovation called lecithin-coated pigments, which Sloe says have "strong skin affinity" that help the foundation "hug" the skin. It also balances thanks to bamboo silk powers and a hydro-lipid matrix, but Mercier says you can boost the effect either way—more hydrating or less—by pairing it with the right primer and setting powder. The foundation is also waterproof, buildable, vegan, noncomedogenic, and packed with antioxidants to deliver skincare benefits. Basically, it's everything you want in a satin-finish foundation.

Mercier says that there are two big changes she's seen in base products over the years. "New technology helps us very much. The biggest thing was to have long-wear without having to load the skin with a lot of powder or retouching your skin all day—which was the old-fashioned way to do it, because foundation had a tendency to disappear. Today, it's not like that at all," she says. (The new foundation promises 12-hour wear.) "The second thing that I was obsessed with was to get rid of the silicones." Sloe confirms that the new foundation is also free of silicones without sacrificing that "luxurious experience."
I think what impresses me most with the Real Flawless Weightless Perfecting Foundation is how nicely it plays with other makeup. I layered cream blushes, bronzer, and highlighter on top, and it did not budge, even though it has the lightweight fluidity of a skin tint. It's not a matte foundation, per se, but it does lightly dull excess shine with a superfine powdery finish. I tapped just a bit of translucent powder around my nose and on the center of my forehead, but didn't need it anywhere else. "I want to be very precise about the performance of this product," Mercier says. "If you're looking for something glowy and wet, this is not that. But the formula, the cleanness of it, the application—it's easy and beautiful."
Laura Mercier Real Flawless Weightless Perfecting Foundation is available for $48 online at sephora.com. SHOP NOW

Beauty Director
Jenna Rosenstein is the Beauty Director at BAZAAR.com. While attending NYU, she held internships at Women's Wear Daily, Bloomingdale's, Harper's BAZAAR (as Glenda's intern!) and Allure, the latter of which she parlayed into her first job as the Beauty Assistant. She left Allure three years later as the Senior Beauty Editor, spent a few months at Refinery29 in the same title overseeing branded content, before finally landing back at BAZAAR to oversee all digital beauty content. When she's not testing every lipstick known to mankind, getting zapped by new lasers, or interviewing experts and celebrities, you can find Rosenstein re-watching Star Wars movies, reading books about new discoveries in science and health, and playing with her Bombay cat named Maddie.